GGPoker is one of the leading online poker sites in the world, with countless players in Asia and Europe playing every day. GGPoker offers you many tournaments with great prizes, a great welcome bonus for new players and a great variety of games. Next, we will see what is rake and rakeback at GGPoker.
Rake and rakeback at GGPoker: what is it like?
As a game host, GGPoker applies a commission on cash game tables. This charge is known as rake, or rake. Rakeback is the simple redistribution of those charges to players and can guarantee poker players a return, regardless of what they are doing at the tables.
GGPoker does not charge rake on any of its tournaments, but usually charges a flat fee instead. The amount is often a set percentage of the tournament buy-in and will be detailed in the tournament lobby for each event.
GGPoker rake is charged before the flop. All players pay a small commission on their side, and rake details are listed in the tournament lobby for each event.
GGPoker Welcome Bonus
New players can get a bonus of up to $600 if they join with the GGPoker bonus code Newbonus. The Newbonus code allows you to get a 100% deposit match, that is up to $600.
In order to make the registration and get the bonus:
Register at GGPoker.
Click on the "Register" button to open the account.
When asked if you have a bonus code, enter the code Newbonus.
Registration is completed within a minute and once done, you simply download the GGPoker software, log in and make your first real money deposit, to get the sign-up bonus. You will be able to claim a 100% cash match, with a poker bonus of up to $600 available.
You can also claim a $600 cash deposit bonus and free tickets. This bonus is made up of $40 in free entry tickets, plus an additional $60 in free tickets when you play six daily missions after opening your account. If you are able to complete the missions, GGPoker will give you a $15 GGMasters satellite tournament ticket.

The Fish Buffet is probably the most well-known promotion of the many offers and rewards that can be found at GGPoker.
The Fish Buffet VIP program allows players to earn up to 60% cash back. Playing in any of the available poker games allows you to accumulate Fisch Buffet Points, and as you move up the ranks, you can unlock more exciting rewards, and earn a higher cashback.
GGPoker Tournaments
GGPoker has many tournaments, from daily tournaments to high roller events and the World Series of Poker.
GGPoker's daily guarantees offer more than $5 million per week.
World Series of Poker events
Multiple Millions
GGMasters
Beat the pros
Daily guarantees
High rollers
Bounty Hunter
Chinese Zodiac
Omaholic
GGPoker Games
In addition to the daily tournaments and big events with multi-million dollar jackpots, GGPoker offers a number of different games. There is a strong focus on cash Hold'em and Omaha games.
GGPoker is exclusive for games such as All-in or Fold, Rush & Cash and Spin & Gold.
All-in or Fold
Available for both Hold'em and Omaha, All-in or Fold is fast and easy to play. It has only 8 big blinds and you can choose to move All-in or fold the bet on each hand.
Every time you are All-in you have a chance to win an instant cash prize. There is no break in the action with this game, and as soon as you go All-in, you play another one.
Rush & Cash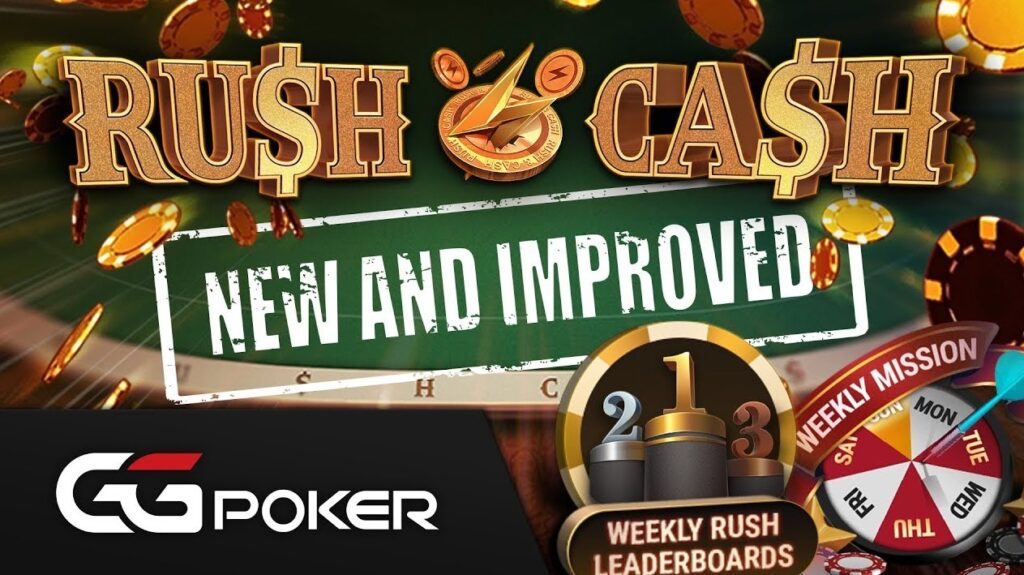 Rush & Cash is GGPoker's unique version of the fast-folding Hold'em and Omaha games. It is quite similar to the Zoom game found on PokerStars. It is similar to the standard GGPoker cash game tables, but without waiting for hands to finish after folding. Instead of waiting for the hand to play out, you tap that Rush button, and you are automatically placed on another hand.
Rush & Cash comes with reward drops of up to 600% rakeback, plus you can earn Fish Buffet points while playing this game, which will give you an additional opportunity to increase your rewards.
Spin & Gold
One of GGPoker's newest games. Spin & Gold allows players to win up to 12,000 times the buy-in, with a maximum prize of $600,000. The game already comes with unique features, such as an insurance feature that allows you to avoid 2x multipliers.
Eight bets are available from $0.25 to $50, and the game starts as soon as three players have sat down to play. To play you only need to select your preferred buy-in, select the number of games you want to play simultaneously, and then press the "Play Now" button.
Player Value Index
The concept behind the Player Value Index (PVI) at GGPoker is that recreational players benefit more compared to professional players in terms of rake.
Instead of raking the same amount, recs should have a higher PVI factor and earn more rakeback than a pro. The minimum PVI factor is 0.36 and the key determinants that reduce your PVI score are volume and winnings. Both are perceived as typical variables for a "regular" player and the higher they are, the faster your PVI drops.