GGPoker offers a wide variety of tournaments to suit all tastes. The events are held in different formats and with various entry fee ranges. Those players who cannot afford to cover certain buy-ins can enter the desired tournament through satellites, and play on a regular basis.
Types of tournaments available at GGPoker
GGPoker has Daily Guarantees Series, which includes tournaments of different poker formats, providing great guarantees, totaling $100,000 each day.
High Roller Tournaments
If you're looking for high stakes, the High Rollers tournaments are the ones for you. These daily events provide big guarantees of up to $125,000 each day, and plenty of table action.
Buy-ins range from $210 to $1,000, which means players can select a tournament according to their bankroll. This tournament is held every day, and on Sundays there are special High Rollers events with double guarantees. It is also possible to participate in any HghRollers tournament through satellites held during the week.
Bounty Hunters
Bounty Hunters is a series of poker tournaments where participants earn a bounty for each player they eliminate from the event, in addition to payouts based on their final position. This type of tournament takes place in the poker room every day from 0:30 to 23:30 (UTC), in the progressive knockout format, which gives you the opportunity to get a lot of money for eliminating opponents. On Sundays all Bounty Hunters guaranteed prizes are doubled.
Omaholic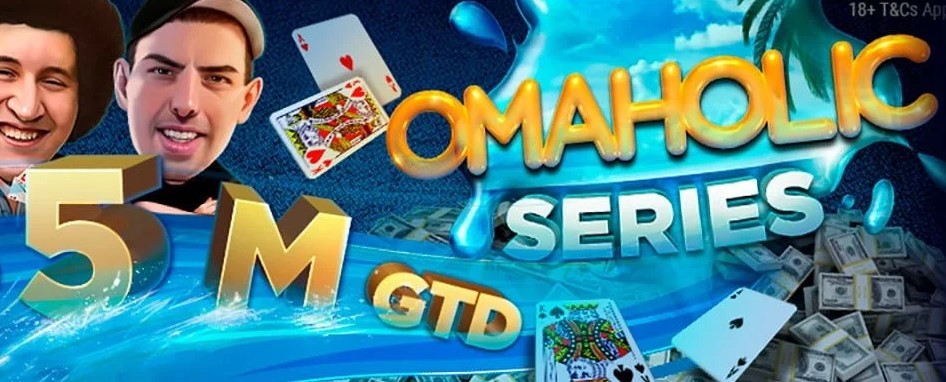 If you don't like Hold'em events and what you are looking for is more action you have to check out GGPoker's Omaholic tournaments, because you will definitely enjoy them. These tournaments come in three formats: Freezeout, Rebuy and Bounty.
Buy-ins are $1, $11 and $22, and there are satellites to join the Omaholic tournaments, which are held on a regular basis. The late registration period lasts 60 minutes and re-entries are only available during late registration.
Chinese Horoscope Series
If you are a fan of crazy fun action you have to try the Chinese Zodiac Series, which contains 12 tournaments and runs every day from 10:00 to 15:30 (UTC). By winning any of these events, you receive fun special avatars that correlate to the animals of the Chinese zodiac. In addition to the prize money.
Tournaments are provided in No Limit Hold'em format (Bounty, Turbo, Freezeout) with buy-ins ranging from 20 to 800 chinese yuan. The weekly guarantee for the series is 1,000,000 yuan. The Chinese Zodiac Series main event, with a buy-ins of 388 yuan and a guarantee of 188,000 yuan, takes place every day at 12:00 (UTC).
You have to keep in mind that all Chinese Zodiac Series tournaments are played in CNY (China Yuan Renminbi), however, there is the possibility to enter the events with dollars, but your funds will be automatically converted into CNY when you pay the buy-in you make.
Phoenix Rebuys
This type of exclusive tournament offers players the opportunity to return to the event for an additional period, which makes your game even more exciting. It is possible to buy back 300% of the initial stack after the end of the first rebuy period.
The re-buy period lasts 120 minutes, up to level 10, while the double re-buy is available at levels 11-14. Late registration is open for 80 minutes after the start.
It is possible to replay up to 4 times in a day, as GGPoker holds four such events in 24 hours. The lowest buy-in is $0.20 and the most expensive tournament will cost you $10.
T$ Builder

The particularity of this type of tournament is that GGPoker gives you the money in T$, or tournament dollars, a special currency used in the room. You can use these dollars to cover the entry fee of any GGPoker event you want to play in, either partially or fully.
The poker room does not charge any fees, meaning that the total buy-in amount is used to form the prize pool. T$ Builder events are held every 30 minutes, so you have much more chances to build your bankroll. Buy-ins are $1, $2, $4 and $8, and the late registration period lasts 15 minutes after the launch.
Most recommended tournaments according to player profiles
In the last twenty years poker has increased its popularity and nowadays there are more and more online casinos where you can try your luck.
Texas Hold'em
One of the most requested poker variations in Europe and North America is Texas Hold'em, particularly in Texas, its place of origin. Surely there is no player who has not played Hold'em because its rules are very easy to learn and its winnings are very interesting.
Omaha
This variation of poker has much in common with Hold'em. There can be up to 9 players at the table and it is played as a Pot Limit variant. This means that bets are conditioned by the size of the pot. You can bet, but never more than the pot size. A widespread, but somewhat more difficult variant is called Hi-Lo (high-low). In this game, the winners are those who have the strongest and lowest hands, and share the pot.
5-card draw
The 5-card draw is the most basic poker variation and the one that most players learned to play first. The best five-card hands are made after the deal, and another round is made in which the cards can be exchanged. This type of poker is the most recommended for beginners, as it is easy to learn and highly entertaining.
Chinese Poker
A standard deck of 52 cards without jokers is used and up to 4 people can participate. The main objective is to collect a hand with three melds created from 13 cards, which the participants receive during the round. Although the rules are simple, experienced players find this variant somewhat difficult, due to the dominant role of the luck factor.
Poker has been promoted as one of the best sporting events on networks by Fox Spots and ESPN. According to Poker Players Research, at least 40 million people play poker, of which 15 million play online and for real money.