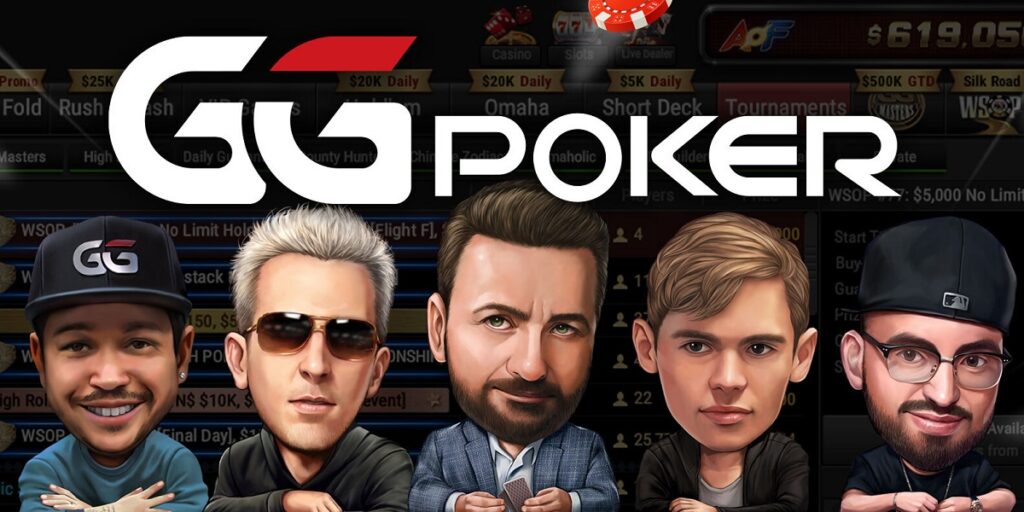 GGPoker Ambassadors: who are these poker players?
GGPoker is one of the most popular websites for playing poker online today. It is among the leaders in terms of traffic volume, and was originally designed for Asian players.
It is now frequented by a large number of players from Europe and Canada, although it is banned in some territories.
It is one of the platforms that has most expanded its roster of ambassadors, bringing together a select group of players from around the world who have become part of the visible face of the platform.
Who are the GGPoker ambassadors?
Normally, online poker platforms usually invest in ambassadors who are responsible for representing the brand in different parts of the world, but the case of GGPoker is especially striking because it has managed to get some of the best-known faces in the world to be ambassadors of the firm.
Perhaps the most famous is Daniel Negreanu. The Canadian, included in the Poker Hall of Fame, has managed to break several records throughout his career. One of the most surprising is the number of re-buys in a single tournament, which Negreanu holds with 46. He holds 6 WSOP titles and has 2 WPT. He was even recognized as the best poker player of the decade by the Global Poker Index.
Fedor Holz is another player who has managed to become, thanks to his extraordinary career, an ambassador of GGPoker. The German, despite his youth, is considered one of the best poker players of all time. He has an innate talent at the age of 28 and has managed to conquer most of the territories in which he has participated.
Bertrand Grospellier, also known as ElkY, is a professional poker player from France. A fan of video games (he is a reference in titles such as Warcraft III or StarCraft: Brood War), he has managed to win the World Poker Tour, the World Series of Poker and has also won the European Poker Tour title, winning the Triple Crown at the age of 41.
Poland's Wiktor Malinowski, only 27 years old, is another of the emerging faces of the world poker scene who has been chosen by GGPoker as one of its ambassadors. He started out as an online poker ace, from where he made the jump to the more traditional face-to-face tournaments in 2019. A declared fan of handball, he is one of the youngest poker players to become an ambassador for a high-caliber platform in the online poker arena.
Jason Koon, the latest to join GGPoker's family of ambassadors
The American player with ITMs worth nearly $33 million in live tournaments joined the platform late last year, joining a select list of highly prestigious players on the global poker scene.
Although he barely managed to place 10th in the last batch of games he played at the end of 2021, his outstanding final tables at the 2021 WSOP put him under the spotlight, attracting worldwide attention.
According to GGPoker itself, Koon will focus his efforts on strengthening security and integrity efforts in the room, as well as championing High Rollers, VIPs and high-volume players.
It's a move that came as a surprise when announced, as since 2017, Koon had been an ambassador for another online poker platform. When his contractual commitments ended, GGPoker managed to propose him as the firm's new ambassador and he has managed to join the platform's well-known list of ambassadors.
Why can't GGPoker be played in Spain?
GGPoker is an Asian giant, the platform that accumulates more international player traffic.
However, given the restrictive legislation on gambling, foreign operators are prohibited from working in Spain unless they comply with a series of extremely harsh conditions aimed at limiting traffic.
Although methods have been reported on the Internet to try to circumvent the restrictions by using virtual private networks (VPN), in reality this is not advisable, since the original source from which the game is played can be located and it would be a violation of the Terms and Conditions of Use.
If this were to happen, the platform offers a prudent period of time to withdraw the funds (in no case will these be at risk, even if a direct expulsion is decreed), but the player would be warned and would be prevented from accessing again if this were to occur.
Some players have even commented on unofficial forums the possibility of using cryptocurrencies to play on the platform, but it is recommended not to use them in order not to break the rules since it is a platform that has explicitly indicated the prohibition to operate outside the authorized territories, as well as to host players coming from them.
What do ambassadors have to say about usage restrictions?
Although some players prefer to keep their opinions to themselves, others are known to be outspoken when it comes to controversial topics. This is the case of Daniel Negreanu, who, when asked about it, said he didn't care where the game was played from as long as the player was real.
Incidentally, the Canadian said that he did not understand why other platforms put so much effort into identifying players who accessed using a VPN, a practice that some companies have begun to implement to ensure that there is no unauthorized access.
Other players who are part of the GGPoker ambassador group confirmed nodding with Negreanu on the first part of his opinion, although they were less specific about their stance on zonal restrictions and the use of cryptocurrencies to fund their bets.